Hello friends,
In all honesty, there are only three things that you should be giving yourself this year. I've seen a lot of fashion bloggers out there attempting to shill what I like to call "pre-pandemic wear" AKA things that do not involve elastic. Let's be honest though…those have no place in our lives at the present moment.
In honor of realism, I'd like to share with you the three things to add to your holiday wishlist and no, they are not from Nordstrom lol.
Sweatpants (less than $25; on average about $10 for most colors): I shamelessly own them in every color. I always buy means sweatpants because I'm tall, but for some reason they also just feel more comfy. The only downside is that they lack pockets, so no storage place for your tater tots Napoleon. Believe it or not…they perform the same function as those $50 dollar ones that you see everywhere 👀
Sweatshirts (less than $20; on average about $15 for most colors): I also own these sweatshirts in many colors. Comfort Colors sweatshirt are notoriously comfortable and these do not fail to disappoint.
Socks (less than $20 for a pack of five; some color ways are cheaper): I own these as well. They are so freaking warm. They are the perfect socks for the cold snap that we've been enduring at the present moment.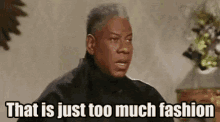 Yours always,
EM